Use ground penetrating radar surveys to
produce GPR images of the subsurface.
2-D and 3-D cross-sections and maps are created by post processing the ground penetrating radar results. Here you can find ground penetrating radar services or surveys for geophysicists, engineers, geologists, military, and underground utility locators that are often used to map geology, mining, map fracture and fault systems, detect voids, locate utilities, scan concrete and pavement, locate underground storage tanks UST, find graves, archaeological investigations, map contamination, determine ice thickness, forensic investigations, agriculture, finding drain tiles, forestry, military investigations, and security applications. Many of these applications also fall into the category of engineering geophysics.
Ground penetrating radar systems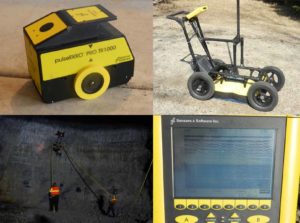 are designed with a variety of antenna frequencies and configurations. While there are differences of opinions and values often overlap, GPR antennas can be grouped into low, medium, and high frequencies.  Lower frequency antennas (25, 50, and 100 MHz) are often used for mapping geology, mapping contamination or water, surveying archaeological sites, mapping ice, and characterizing deeper areas of concern. Mid-range antennas (100, 200, 250, and 500 MHz) offer better resolution, at the expensive of loosing greater depths of penetration. This group of ground penetrating radar antennas is often used to locate underground utilities, map structure within rock, locate buried metal, find drain tiles, map graves, or image massive concrete. More often concrete is imaged by a concrete scanner using a high frequency GPR antenna, approximately 1000 MHz. The higher frequency antenna often provides great detail for imaging post tension cables, rebar, utilities, voids, wire mesh, and engineered bolts placed in the concrete. However, a 1000 MHz GPR antenna has a difficult time penetrating much beyond the bottom of a concrete slab, if placed over soil. If the soil is a clean dry sand or gravel, one may be able to scan or image below the bottom of the concrete. Be aware that GPR will not penetrate through metal and has a difficult time penetrating through most water and clay rich environments. With the exception of ice, most water and clay rich soils are electrically conductive. Electrically conductive materials greatly reduce GPR capabilities. In comparison, wood, plastic, asphalt, and rock are not typically conductive and may yield desirable GPR results.  In many geological settings, clients should be aware that an area can not be cleared of any obstacles. GPR is not a crystal ball. If a target of concern is not observed in a GPR record one can not conclude, for sure, that there isn't an obstacle at depth. One can increase their confidence with intimate knowledge the site and with testing how the configured GPR instrument responds at the site to a known target at a known depth.
For help, fill out PenetratingRadar.Com's form.
You can also go to the bottom of this page and leave a comment for someone to help you find an answer about ground penetrating radar. We will respond.